Spike And Mike's New Generation Of Animation
2010-09-25
by Richard von Busack
The Spike and Mike New Generation of Animation (now playing in limited engagements) continues the good work done in recent years. As for the parallel Spike and Mike Sick and Twisted Fest, requires no more smacking down; it's all here, again; yet another mirth-free adventure of No Neck Joe, and a few other cartoons about hemp smoking made by hemp smokers for hemp smokers. To be fair, the adult selection is ornamented by Tony Millionaire's lovable lush Drinkey Crow, just as it is debited by the ever-tedious Happy Tree Family, that troop of mangled bloody critters who are just as unamusing after they get hurt as they were before the trouble started.
Admittedly, cartoons are the only field in which one wants to encourage violence against animals. (Some day you'll meet a vegan who weeps at Bugs Bunny.) The animals in New Generation are clearly getting more exotic: octopi and crabs and owls and bears, as well as the old familiar dog. Australia's Steve Baker's "Dog With the Electric Collar," about the just deserts paid to a miserable little yapper, is gargantuanly funny. But on the whole the characters are treated with care and insight.
The fest is a triumph of varying styles, retro and nowtro, flat and 3D. The Argentine director Juan Pablo Zaramella's Lapsus, about a wide-eyed nun drawn into the dark side shows the uses of flatness, and the results that can be got from two tones of black and white. By complete contrast is work by PES the phenomenal stop motion animator whose KaBoom (at the '06 S & M fest) maybe the only war movie I've ever really enjoyed. PES' "Western Spaghetti" concerns the preparation of a familiar meal out of completely inedible toys, and once again this animator's work suggests the persistence of an animal brain within the human mind that recognizes objects by shapes alone.
The three unmissables here:
Let's Pollute! by Geofwee Boedoe. It's clear Boedoe is a Pixarite even before we see the end credits thanks to Pete Docter (who played bass on the cartoon's soundtrack). It's not just the fab-fifties style of the animation that tips the Emeryville influence, but also the clarity of the story telling: the rhythm achieved through tricky matching shots and top-notch gag writing. This practiced educational film parody even follows the old marketer's rule: tell em what you're going to tell 'em, tell 'em, then tell them what you told them.
Visually, Boedoe channels what might be called "the Zagreb Style": the wallpaper-sample backed, Picassoid 1950s animated look that created a psychic bridge between New York's UPA and the internationally famous animation studio in Croatia where so many educational films were made. (Zagreb Studios put Yugoslavia on the map, until civil war took it off again.) In "Ultraflat20," Boedoe exhorts a nuclear family to amp up their consuming and wastage; this pretty bald-faced environmental message is still hilarious at 6 minutes, thanks to the class and care with which it is done.
The haunted hotel opus The Ghost of Stephen Foster by Matthew Nastuk and Raymond S. Persi is maybe the most detailed pastiche of the Fleischer Brothers ever done, as a music video for a pretty good Squirrel Nut Zippers song.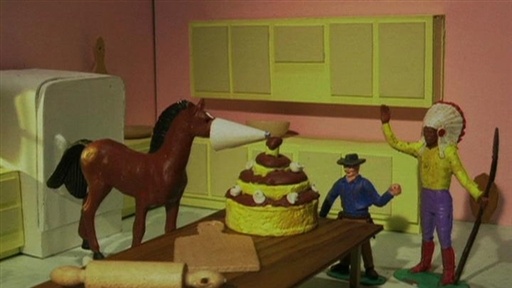 Lastly, Cake, by the partners who did A Town Called Panic, is a marvel from 2002, starring Cowboy, Indian and sage Mr. Horse. It pains me to write anything negative about Aardman Animation, who dubbed it in English, but even a cartoon this small and this resilient can demonstrate the damage that's done when you cut a film's vocal chords. Subtitles rule.