Sam Fuller On Criterion Dvd
2011-02-17
by Michael S. Gant
IN Godard's Pierrot le Fou, director Sam Fuller made a memorable cameo, chomping on a cigar and describing for Jean-Paul Belmondo's character the essence of moviemaking: "A film is like a battleground. There's love, hate, action, violence, death ... in one word: emotion." There is plenty of fraught emotion in two of Fuller's most flamboyant black-and-white films of the early 1960s, The Naked Kiss (1964) and Shock Corridor (1963), now reissued by Criterion in handsome packages full of extras and with essays illustrated by Daniel Clowes.
The Naked Kiss opens with the frenetic immediacy scored to raucous sax-filled jazz. In agitated, hand-held-camera close-up, a prostitute named Kelly (hard blonde Constance Towers) attacks her pimp with her spike-heel shoe. He desperately reaches for her head, only to pull off her wig; she finishes the job bald and then faces the screen as if it were a mirror and puts herself back together. All this before the title appears.
Hoping to start a new life, Kelly moves to a small town, drawing the attention of a moralistic police captain (Anthony Eisley) and a rich man (Michael Dante) harboring twisted secrets. Her past, however, keeps reasserting herself, and Kelly has to use that deadly shoe on several people who need straightening out. The disc includes a recent interview with a very elegant Towers plus three early TV pieces on Fuller, in which he discusses the significant influence his days as a reporter had on his movies: "The average newspaper reporter could make a very good filmmaker."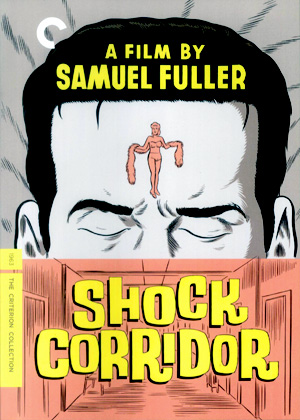 Shock Corridor
features one of those promising reporters, Johnny Barrett (Peter Breck), who fakes a mental illness in order to get committed to an insane asylum, where he hopes to solve a murder case. His girlfriend (Towers) reluctantly agrees to help out with a plan sure to go wrong. Inside, as Johnny draws closer to the truth, he becomes dangerously affected by the varied mental furies of the inmates around him (including a very funny room full of nymphomaniacs, one of whom resembles Liz Taylor in
Suddenly Last Summer
). His growing mania includes visions of Towers, who earns her keep as a stripper. In a memorable scene, she appears onstage with her head swathed completely in a feather boa, looking like a strange bird creature that stepped out a Max Ernst collage. As she starts to sing, we see only the wafting of the feathers blown by her breath.
Although Shock Corridor is pitched at fever level, it is surprisingly interesting in the social issues that Fuller crams into the characters (an African American patient imagines he is a KKK member and so on), and the production values are high—the cinematographer was Stanley Cortez, who worked with Orson Welles and Fritz Lang. Fuller also throws in a line that must have greatly pleased his ink-stained soul: "An insane mute will win the Pulitzer Prize!" The extras include the excellent documentary about Fuller The Typewriter, the Rifle and the Movie Camera.