Ondine
2010-06-09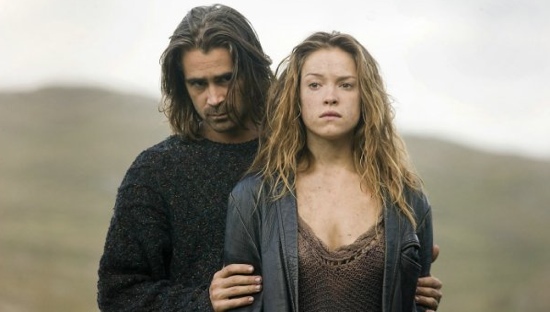 by Richard von Busack
MERMAID KITSCH must be thundered against, but there's a surprising amount of grit in Neil Jordan's Ondine. In his 16th film, Jordan is clearly working to please himself; the Irish locations are close to his home, and maybe not since The Company of Wolves has he had so much success with Irish magical realism.
I went in unenthusiastic, but it dawned on me that once I started watching Ondine the only thing I would be able to think about for weeks would be the fate of the oceans. The incomparable photographer Christopher Doyle brings out the sparkling gloom of these waterscapes, the summer sunlessness, the lambency that's almost as emotionally piercing as Irish music.
Syracuse (Colin Farrell) is known to all and sundry as "Circus," because of the drunken clowning that has marked his life. He has been, however, nearly three years sober on the morning he goes out fishing and his purse seine hauls a half-dead lady out of the waters off the coast of County Cork.
Ondine (Alicja Bachleda) has a hard-to-place accent; she asks for shelter and to be hidden from the sight of the locals. Syracuse agrees and only confides in the village's blasé priest (Stephen Rea).
Word gets out, though. Syracuse's precocious, crippled daughter, Annie (Alison Barry), decides that Ondine is a selkie—a Celtic were-seal in human form. Early on, Jordan gives viewers room to be skeptical. After Syracuse first broaches the subject of Ondine as if he were reciting a bedtime fable about a lady in the water, Annie responds, "That's a really shite story."
The same, if less profane, bemusement comes from the padre, whom Syracuse uses as an AA sponsor because there isn't one in the village. Rea genially revives the old tradition of the Irish movie priest, powerless to defeat sin but damned if he's going to approve of it, either—"Ya wouldn't want to say a few Hail Marys on your way out?"
The contrasting colors of the real world make Ondine's fantasy shine. Annie's drunken mother (Dervla Kirwan) and her boyfriend (Tony Curran) have both a good rapport with each other and a bad way with Annie. When her daughter gets a new electric wheelchair, Mom takes it for a few laps around the pool table in her local pub. The most serious display of magical powers is Ondine blessing Syracuse's fishing; she apparently lures the catch into his nets with song.
Long-lens shots bring out Farrell's virility through juxtapositions. Jordan poses him to look like Hercules, drawing a boat into shore from a rope on top of a cliff, the forced perspective making the big boat look like a toy. We also see him towering over a lighthouse as if he were Gulliver in Lilliput.
In close-ups, Farrell does a covert job of acting: shadows conceal his face, and hair conceals his eyes. It's the best kind of something-missing performance yet by this actor who seems to be getting better in his recent films. That he is working alongside Bachleda, his real-life partner, ensures one of his most relaxed and touching performances.
Luckily, Farrell is working under a companionable director—friendly but with a tough, grave streak. Jordan doesn't oversell the heartbreak any more than he oversells the fantasy. Syracuse picks up the air of nonchalance, telling Ondine, "Maybe you just walked into the sea because of a bad marriage. I did that once."
Jordan's previous aquatic picture, In Dreams, suffered from too many logical explanations. Eventually, Ondine comes to the section one dreads—the part that submits that there must be a perfectly reasonable explanation for all this. Jordan keeps this section short, but unfortunately, this is where the film has its supposed climax. It's a murky standoff, and Doyle's gloaming lapses into semidarkness. These few lapses fade in the memory as if they were a coda. More memorable are the elements of Ondine: the light on the water, the salty quip, the sense of possibility.